Kindergarten Letter Tracing Worksheets
Introduction:
Welcome to the world of letter tracing worksheets, where the art of learning to write takes shape! These educational tools provide a hands-on approach to mastering letters, aiding in the development of fine motor skills and letter recognition. Dive into the realm of alphabet exploration with our engaging letter tracing worksheets designed to make the journey of learning to write an enjoyable and educational adventure.
Practice worksheets for kindergarten and preschool-aged children (3 to 7 years old) serve several important purposes:
Skill Development: Worksheets are designed to help children develop essential skills such as fine motor skills (writing, coloring, cutting), early literacy skills (letter recognition, handwriting, phonics), and basic math skills (counting, number recognition, simple addition and subtraction).
Preparation for School: These worksheets introduce young children to the concepts and skills they'll encounter in school. It helps them get a head start and feel more confident when they enter formal education.
Cognitive Development: Completing worksheets can enhance cognitive skills like problem-solving, critical thinking, and concentration. They require children to follow instructions, analyze problems, and find solutions.

Hand-Eye Coordination: Activities like coloring inside the lines or tracing shapes help improve hand-eye coordination, an essential skill for tasks like writing and drawing.
Language and Vocabulary: Worksheets often include activities related to letters, words, and pictures. This promotes language development and vocabulary expansion.
Independence and Responsibility: Letter Tracing Worksheets encourage children to work independently and take responsibility for their learning. They can gain a sense of accomplishment by completing tasks on their own.
Creativity and Imagination: Some worksheets involve coloring and drawing, allowing children to express their creativity and imagination.
Kindergarten Math Worksheets
Readiness for Writing and Reading: Many worksheets focus on pre-writing and pre-reading skills, helping children learn to hold a pencil or crayon correctly and recognize letters and sounds.
Number Sense: Math worksheets can help children develop a foundational understanding of numbers, counting, and basic mathematical concepts.
Social Skills: While not the primary focus, worksheets can also be used in group settings, promoting social interaction and cooperation.
It's important to note that worksheets should be used in moderation and in a balanced way with other forms of learning, such as play, hands-on activities, and interactive experiences. Tailoring worksheets to a child's age and developmental stage is crucial to ensure they are beneficial and engaging rather than overwhelming.
The Importance of Kindergarten Letter Tracing Worksheets
Fine Motor Skills Development
Letter Tracing  worksheets are valuable tools for the development of fine motor skills in young children. By holding a pencil, crayon, or brush and following lines or patterns, children refine their hand-eye coordination and dexterity. These activities require precision, which is essential for skills such as writing, drawing, and even activities like buttoning a shirt. The simple act of tracing and painting shapes and lines helps children build the foundation for more complex motor skills later in life.
Cognitive Growth
 Letter Tracing worksheets are not just about making pretty pictures. They also stimulate cognitive development. When children engage in these activities, they are encouraged to think, plan, and strategize. For example, they must decide which color to use, which direction to follow, and how to stay within the lines. This process enhances problem-solving abilities and logical thinking, two skills that are valuable throughout one's life.
Creativity and Self-Expression
One of the most exciting aspects of kindergarten tracing and painting worksheets is the opportunity for self-expression and creativity. Children are not confined to a rigid set of rules; they can choose colors, shapes, and designs, allowing them to express themselves freely. This fosters a sense of individuality and encourages children to think outside the box. It also boosts their confidence as they see their unique creations take shape on paper.
Letter Tracing Worksheets often include letters and numbers, which help introduce children to the world of written language. As they trace over these characters, children become familiar with their shapes and formations. This familiarity lays the groundwork for future writing skills, as kids are gradually introduced to the alphabet and numerical symbols.
Spatial Awareness
 Letter Tracing  Worksheets require children to pay attention to spatial relationships. For instance, they need to understand how lines and shapes fit together and how to maintain proportion when coloring or tracing. This activity enhances spatial awareness and visual-motor integration, skills that are useful in a wide range of activities, from reading maps to solving puzzles.
Benefits of Kindergarten Letter Tracing Worksheets
Emotional and Social Development
Kindergarten is not just about academic learning; it's also a place for emotional and social growth. Tracing and painting worksheets can promote these aspects by encouraging children to work together and share materials. Moreover, creating something beautiful on paper boosts a child's self-esteem and sense of accomplishment, which are vital for overall emotional development.
Bonding and Communication
Tracing worksheets are often used in group settings, allowing children to bond and communicate with their peers. Collaborative projects promote teamwork and the exchange of ideas, fostering strong interpersonal skills. Sharing the experience of creating art can be a wonderful way for children to build connections and friendships with their classmates.
Stress Reduction
Creating art, whether it's tracing or painting, can have a calming effect on children. It provides an outlet for them to express their emotions and relieve stress. Engaging in these activities can be a soothing and enjoyable way to unwind, which is essential, even for young minds.
What is the primary purpose of using worksheets in kindergarten?
a) To replace traditional teaching methods
b) To provide structured practice and reinforcement
c) To encourage free play
d) To assess a child's creativity
Ans b
We have tried our best to answer. Please comment if something is wrong. This is our opinion only.
Which of the following is a key benefit of using worksheets in kindergarten?
a) Enhancing creativity and imagination
b) Allowing children to skip playtime
c) Providing opportunities for skill development
d) Reducing social interaction
Ans c
We have tried our best to answer. Please comment if something is wrong. This is our opinion only.
Which statement is true about the use of worksheets in kindergarten?
a) They are the sole source of learning
b) They should never be used
c) They can be a valuable tool when used appropriately
d) They are irrelevant for kindergarten education
Ans c
We have tried our best to answer. Please comment if something is wrong. This is our opinion only.
When choosing worksheets for kindergarten, what should be the focus?
a) Complexity and difficulty
b) Age-appropriateness and learning goals
c) Length and volume
d) Only colorful graphics
Ans b
We have tried our best to answer. Please comment if something is wrong. This is our opinion only.
***Remember, these are general parenting tips, and every child is unique. It's important to adapt your approach to your child's individual needs and personality.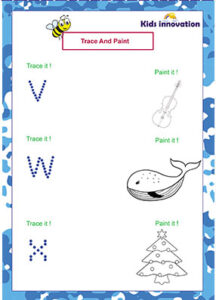 Which aspect of a child's development can worksheets help support?
a) Social skills only
b) Emotional development only
c) Cognitive, social, and fine motor skills
d) None of the above
Ans c
We have tried our best to answer. Please comment if something is wrong. This is our opinion only.
Montessori education is an educational approach developed by Dr. Maria Montessori in the early 20th century. It emphasizes child-centered learning, individualized instruction, and hands-on, experiential learning. In Montessori classrooms, children are encouraged to explore and learn at their own pace, often through the use of specially designed materials and activities.
Worksheets, on the other hand, are a traditional educational tool often used in more conventional teaching methods. They typically consist of paper-based assignments that students complete by filling in answers or solving problems. Worksheets are often structured and follow a predetermined curriculum, with a focus on standardized testing and rote memorization.
Montessori education and worksheets are fundamentally different in their approach to learning. Montessori encourages active, self-directed learning through practical experiences and self-correction, while worksheets tend to promote passive learning, relying on pre-determined questions and answers.
Montessori educators generally avoid or limit the use of worksheets in their classrooms. They believe that worksheets can stifle creativity, critical thinking, and a child's natural curiosity. Instead, Montessori classrooms promote open-ended activities, exploration of the environment, and interactions with specially designed Montessori materials that are self-correcting and facilitate independent learning.
In summary, Montessori education and worksheets represent two contrasting philosophies of education. Montessori places a strong emphasis on child-led, experiential learning, while worksheets are more structured and often used in conventional educational settings to convey specific content. Montessori's approach aligns with fostering a love of learning and independence, whereas worksheets are often seen as limiting in terms of promoting a well-rounded education.
For more Letter Tracing Worksheets from Shutterstock click here
https://www.shutterstock.com/search/letter-tracing-worksheets