Why Worksheets Are Used in Kindergarten?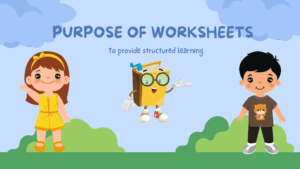 Worksheets are commonly used in kindergarten to provide structured and hands-on practice for young children for several important reasons:
free kindergarten tracing & painting worksheets
Skill Development: Kindergarten worksheets are designed to help children practice and develop fundamental skills such as counting, letter recognition, handwriting, and basic math.
Reinforcement: Worksheets reinforce what children learn in the classroom, providing opportunities for them to review and consolidate their knowledge.
Independence: Worksheets can encourage independence as children work on activities on their own, fostering self-confidence and a sense of accomplishment.
Preparation for Higher Grades: They introduce students to a structured learning environment, which can help them adapt to formal education and academic expectations in later grades.
Fine Motor Skills: Activities like coloring, cutting, and tracing on worksheets help children develop fine motor skills, which are crucial for tasks like writing.
Assessment: Worksheets can be used by teachers to assess a child's progress and identify areas where they may need additional support.
It's important to note that while worksheets can be valuable tools, a well-rounded educational approach also includes play, hands-on activities, and interactive learning experiences to ensure a child's holistic development.